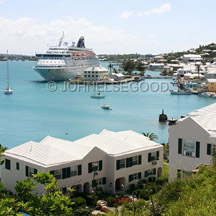 Hello and welcome to St. George's which is the fifth oldest European founded municipality in the Western Hemisphere. It is a small island town but carries quite an impressive history with it.

Most of the town's culture was saved and almost all of the houses have been untouched afterthey were built in 17th to 19th centuries. There are also quite a few historical sites on the island such as the old State House (oldest stone building in Bermuda aside from fortifications). It was built in 1620 to be Bermuda's Parliament and today is the oldest standing house. There's also St. Peter's Church, Unfinished Church and the Bermuda National Trust Museum. These days St. George's is a very popular tourist attraction.

The main portion of the visitors come from the states for it is the closest mainland. There are special tour cruises which have been recently introduced to make the trip much more comfortable for the travelers. These ships have all the necessities, such as restaurants with gourmet food, places for people to relax and entertainment. On the island itself you can enjoy the beautiful scenery and gorgeous beaches. There are quite a few hotels, bars and restaurants on the island itself as well so you won't be stuck with nothing to do.
Come and enjoy this historical and one of the most beautiful
places in the world.

Any enquiries contact
johnelsegoodusa@gmail.com

Each Bermuda photographic image is available for download.
Approximate size of jpg is 2 to 3 megabytes minimum, expanding to 11MB at 300dpi RGB
each Royalty Free Bermuda photographic image is US$100. Once payment is processed, images can be emailed to you or downloads will be available through my ftp site. you will be given a secure password, id and account for login.
This will take you to your photo in the secure folder for download .